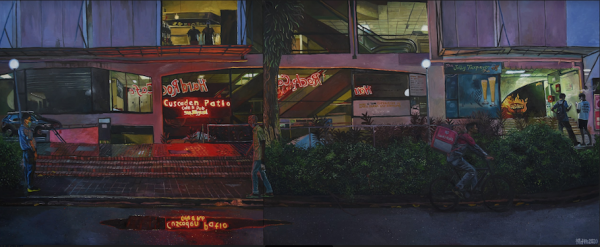 SEED is pleased to present Yeo Tze Yang's (b. 1994, Singapore) solo exhibition titled "Evening, Once More" at the Substation Gallery from 25 June - 12 July 2021. A self-taught, skilled, and determined painter, Yeo is known for his oil paintings that depict scenes of ordinary life in urban settings. His artworks provide an almost cinematic perspective of the quiet details of daily life, those objects and people in our neighbourhood that might easily slip our attention. In this solo exhibition, Yeo presents his paintings with LED signboards which serve to amplify the urban landscapes of his paintings but also create an interesting contrast between these ready-made industrial materials and his hand-painted canvases.
"Evening, Once More" portrays those quiet moments of transition between 6:30pm to 7:30pm, when dusk falls on the city of Singapore - the hours when most people head back home after work. For Yeo, "evening" marks a time when people can relax, rest, socialise, ponder, and reflect at the end of a long day. "Once more" signifies the hope and longing for another night of presence and memories, though time is passing by without a reservation, and simultaneously turning into the present and followed by the future.
In 2016, Yeo Tze Yang was awarded the UOB Painting of the Year Silver Prize. Despite his young age, he has exhibited widely in Singapore, participating in several group shows and solo exhibitions with local galleries and art fairs. His first solo exhibition, A Place Behind My Eyes, was held at ION Art by Utterly Art. His works are part of private collections in Singapore, Australia, the UK and the USA. He pursued his bachelor's degree in Southeast Asian Studies at the National University of Singapore. Determined to be a full-time artist after graduating, Yeo acknowledges the guidance of several artist mentors, including his father, who have helped shape his artistic practice.
We look forward to seeing you at the exhibition!
News Interview about Yeo: Straits Times News (Link) and Zhaobao Interview about Yeo (Link)